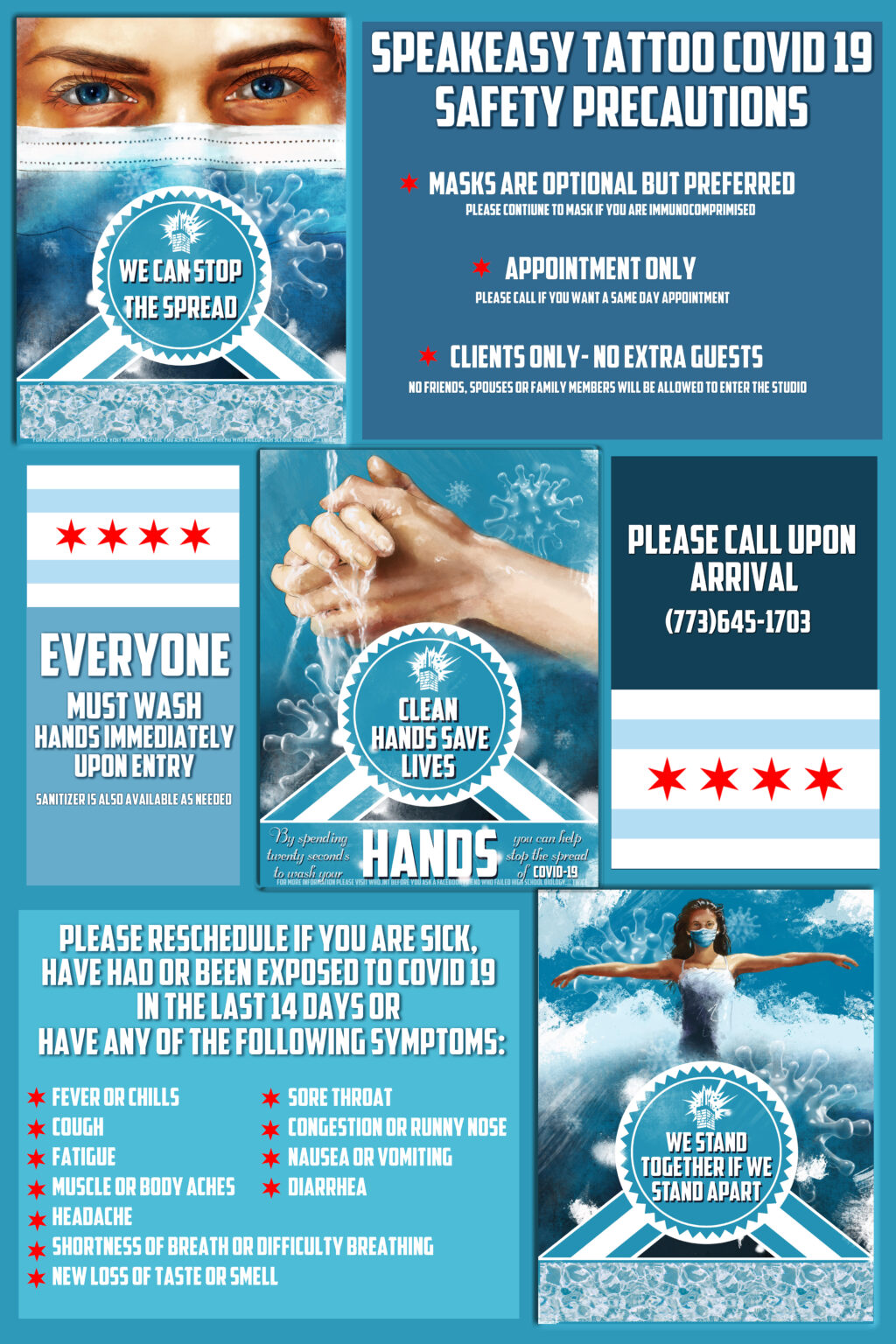 PLEASE NOTE:

Starting on February 28, 2022 per the City of Chicago, MASKS ARE OPTIONAL but PREFERRED for all guests.

With the rising numbers we ask that you please consider wearing a mask. Some artists may REQUIRE you to wear one until we are through this phase. Please continue to mask if you are immunocompromised.

We are still NOT allowing clients to BRING A GUEST.
Masks will continue to be required in health care settings, on public transit, and in other congregate settings. As the City transitions its mitigation measures to remove the mask requirement, many Chicagoans will continue to wear masks in public spaces for a variety of reasons, even if they are vaccinated. For example, after 5 days of isolation or quarantine, masks will continue to be required in days 6-10 in public spaces, as they are now. CDPH recommends Chicagoans who may be immunocompromised or have a family member who is immunocompromised still wear a mask, as well residents under the age of 5 who are still not eligible for a COVID-19 vaccine. Please be kind and considerate of your fellow Chicagoans and the decisions we all continue to make to protect themselves and those around them.  
COVID-19 Work Practice Controls
Licensed Body Art studios already adhere to strict cleaning and disinfecting protocols after each client. Those protocols coupled with our required training in the Prevention of Disease Transmission enables us to be uniquely qualified to enhance our existing protocols to be able to operate in a safe fashion within the stages of re-opening under this current pandemic.
The following are our current protocols that we will be continuing, which will enhance our already strict infection control practices, to prevent the transfer of COVID-19
All clients must fill out our online Tattoo Release Form and upload a Valid ID BEFORE arriving at the shop.
ID's will be verified on arrival.
Masks are optional but preferred especially if you are immunocompromised in any way. Some artists may require you to wear a mask while positivity numbers rising.

Clients, artists and staff will wash hands for at lest 20 seconds when arriving at the studio.
Hand sanitizer is available to clients, artists and staff, although we prioritize hand washing.
Social Distancing
We will limit the number of people arriving at the same time and in the waiting area. When you arrive please call the shop 773-645-1703 to confirm that you are waiting.  Showing up excessively early or late puts a strain on the entire system. Please be sure to arrive within 15 minutes of your appointment. We will let you know when it is OK to come in.
Appointment Only
Our studio is already appointment only this portion is very easy for us to achieve.
We will also limit appointments to

customers only and no extra guests

. No friends, spouses or family members will be allowed to enter the studio. We will be continuing this practice for the foreseeable future.
If you are looking to do a walk-in or same day appointment, please call the shop to talk to an artist who will let you know when we have space to accommodate you.
We have always had a strict cleaning schedule in place. We plan to maintain these procedures. We will be cleaning door handles, light switches, iPads, counter tops and bathrooms as well as any high touch area every 20 minutes or as needed throughout the day.
Artists stations, client chairs, and all studio equipment is thoroughly disinfected after each customer as is currently standard procedure. Everything we use at Speakeasy Custom Tattoo is sterile and/or single use disposable items. This includes chair coverings, bibs, pillow cases and of course gloves.  Our machinery is disinfected thoroughly after each use. Needles are single-use disposable and each surface is either covered with proper bagging material or made of stainless steel which is also thoroughly disinfected with medical grade cleaning supplies after each client.
Each artist is current, and well versed on all Blood Borne Pathogens Certifications & COVID 19 Training. We are trained and highly aware of cross-contamination at every stage of our process. We limit touch points as a part of our regular practices.
Please reschedule if you are sick, or have had Covid 19 or been exposed to it in the last 14 days. Above all if you feel any of the symptoms of COVID-19 let your artist or the studio know immediately and we will be more than happy to get you a new appointment.
By not disclosing symptoms of COVID-19 you may be held in violation of U.S. and Illinois law, you may also forfeit your booking fee, and be held liable for any illness acquired by another person during your visit.
Symptoms of COVID-19 infection can include:
FEVER OR CHILLS, COUGH, FATIGUE, MUSCLE OR BODY ACHE, HEADACHE, SHORTNESS OF BREATH OR DIFFICULTY BREATHING, NEW LOSS OF TASTE OR SMELL, SORE THROAT, CONGESTION OR RUNNY NOSE, NAUSEA OR VOMITING, DIARRHEA